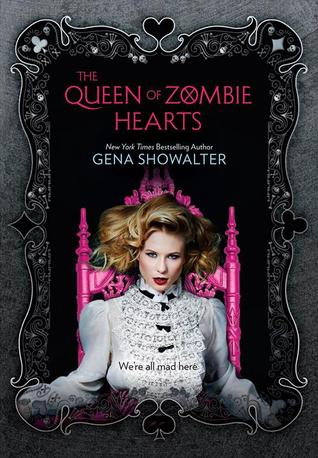 I have a plan.
We'll either destroy them for good, or they'll destroy us.
Either way, only one of us is walking away.
In the stunning conclusion to the wildly popular White Rabbit Chronicles, Alice "Ali" Bell thinks the worst is behind her. She's ready to take the next step with boyfriend Cole Holland, the leader of the zombie slayers…until Anima Industries, the agency controlling the zombies, launches a sneak attack, killing four of her friends. It's then she realizes that humans can be more dangerous than monsters…and the worst has only begun.
As the surviving slayers prepare for war, Ali discovers she, too, can control the zombies…and she isn't the girl she thought she was. She's connected to the woman responsible for killing—and turning—Cole's mother. How can their relationship endure? As secrets come to light, and more slayers are taken or killed, Ali will fight harder than ever to bring down Anima—even sacrificing her own life for those she loves.
Fangirling Scale: Reaching for the stars!
*Says in a zombie voice.* The Queen of Zombie Hearts, The Queen of Zombie Hearts is heeerre! A zombie-fighting action packed conclusion to The White Rabbit Chronicles is all I can mutter from my squeamish heart. This story is finally in my hands! Glorified shippers of Ali and Cole unite and rejoice because The Queen of Zombie Hearts feeds you an uncontrollable amount of swoon and heartbreak.
Cover Love: All hail Ali, the Queen of Zombie Hearts. *Bows* All I can say is perfection. The inside and out absolutely screams a horrid, "Ugghh", as a zombie would say.
Coming from a scaredy-cat myself, don't let the zombies scare and stop you from reading this series. The zombies just add on to the action and fighting (Including swoonworthy guys and kick-butt characters) packed in this book. *Ahem, COLE.*
Ms. Showalter has written an emotionally challenging (For me, anyways!), thrilling, and romantically sighing (In a good way where your heart yearns for more.) conclusion to one of my favorite series, The White Rabbit Chronicles. Especially, The Queen of Zombie Hearts (and Cole!) remains to be one of the keys to my bookish fangirling heart. If I did not physically have this book, I think I would have died from anticipation and sadness. However, after literally staring at the book in all its glory the week it was released, I eventually turned into a zombie, wanting to eat the book right up!
The Queen of Zombie Hearts continues to follow Ali, Cole, and the other zombie slayers on their revenge to end Anima Industries which has basically ruined their lives ever since. The characters' hatred is still strong after what Anima Industries has done to them. Plus, what Anima Industries has done to some of their friends just killed me and wanted to hate them as well. Along with the violence to be done to them, tensions rise as Ali and Cole's relationship heats up to the next level. But, don't worry, their relationship is stronger as ever and will make your shipper heart burst into a million pieces at their devotion to each other.
Each character in this book overcomes many obstacles and hardships that Anima Industries puts up in front of them while still emotionally handling the deaths of their companions. (Just saying the synopsis's noted number of deaths in this book is not true! I was totally heartbroken.) Ms. Showalter captures the right timing of when to execute the characters' deaths because the pace of this book never slows since there is always something waiting for them to bite. The duration of the story keeps you on the edge of your bookish heart, waiting for what's to happen next.
The White Rabbit Chronicles is not a series to miss, you will devour this book in a quick bite. So, definitely read Ms. Showalter's take on the Classic Alice in Wonderland story, with zombies. *In a zombie voice.* Waannt more White Rabbit Chronicles!
Twinkling Quote: "You keep saying that. What do you want with me? What do you want from me?"
"What I've always wanted. Everything."
Always looking for the star,