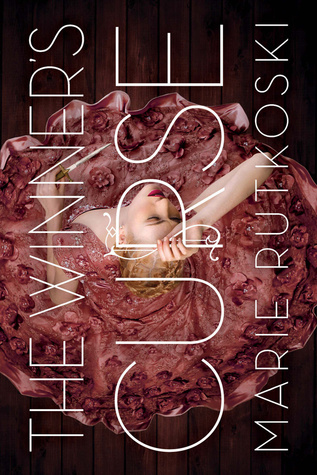 Winning what you want may cost you everything you love
As a general's daughter in a vast empire that revels in war and enslaves those it conquers, seventeen-year-old Kestrel has two choices: she can join the military or get married. But Kestrel has other intentions.
One day, she is startled to find a kindred spirit in a young slave up for auction. Arin's eyes seem to defy everything and everyone. Following her instinct, Kestrel buys him—with unexpected consequences. It's not long before she has to hide her growing love for Arin.
But he, too, has a secret, and Kestrel quickly learns that the price she paid for a fellow human is much higher than she ever could have imagined.
Set in a richly imagined new world,
The Winner's Curse
by Marie Rutkoski is a story of deadly games where everything is at stake, and the gamble is whether you will keep your head or lose your heart.
Book Rating:
☆
☆
☆
☆
Fangirling Scale: Gazing at the Stars!
I can never resist a book that has a beautiful book cover and as an added bonus, a synopsis that pulls you in. The Winner's Curse intrigued me because with the extra hype in the book blogging world about its sequel, The Winner's Crime (Coming soon...next year.), I decided to join the wagon and see why this book is causing all this hype. And the hype of this book did live up to it! A world placed from the privileged point of view is discovered in The Winner's Curse, giving the reader a perspective similar to Gossip Girl where when you are part of high society, don't think it is all lollipops and rainbows. Rumors, betrayals, and forbidden love is spread throughout this book so, get ready and venture into the hidden world of the privileged inner circle.
Cover Love: The cover just is so beautiful. (I know I say this about all the covers!) The gown and the model on the front is accurate to Kestrel's description in the book which I just love about covers.
A privileged daughter of the general falls in love with her slave. Don't think typical love story. Unsuspecting betrayals, broken trust, and disappointing decisions corrupt the relationship between Arin and Kestrel (But in a good way and for the better for readers!) This story was something new I have never read in the YA genre so, Ms. Rutkoski, you did well and impressed me!
Kestrel and Arin's relationship grew slowly and as lovely as first relationships are.I loved how their attraction towards each other was built from a risky friendship to a strong romantic relationship. There was no fate or prophecy urging them to be together which was something I liked about the book.
Although throughout the book, Kestrel's actions did seem oblivious to me as seeing as someone would be betraying you the whole time. But, the reactions come true in reality because I would have been oblivious to one's actions too because of my kindness which clouds all. As well, the pace of the book did seem kind of slow for me in the beginning because of the usual storybuilding presented in a first book of a series. (But, her characters' actions and the pace did add to the suspense and revelation of Arin's true actions!) However, Ms. Rutkoski, redeems the pace with an ending I did not expect and just loved!
Betrayals, hard-lived romance, and future-defying choices are made in this book, driving you to read this book and find out what happens next!
Twinkling Quote:
Always looking for the star,